Student Standouts: Ferguson '20, Mishkin '20, Bernstein '21, Vetter '25, Wright '25
Congratulations to this week's standouts below. Way to go #RamNation! And as always, if you have a story to share, please email weeklynews@micds.org.
Senior Announced on Brown University's Soccer Team
Naomi Ferguson '20 is one of eight new student-athlete recruits at Brown University for their women's soccer team. She is highlighted in this SoccerWire article as one of the team's new forwards.
Some of Naomi's accolades include earning St. Louis American Soccer Player of the Year honors, gaining First Team All-Conference accolades twice and participating at the U.S. National Team U15 National Training Camp.
In the article, Brown Head Women's Soccer Coach Kia NcNeill says, "Naomi is an extremely dangerous forward. She has deceptive pace and strong 1-vs-1 abilities that make her a handful to defend. She has a knack for the goal and has been a proven gamechanger for her club team. She has been fun to watch over the years, and I am excited to finally have her here playing for me at Brown."
Way to go, Naomi!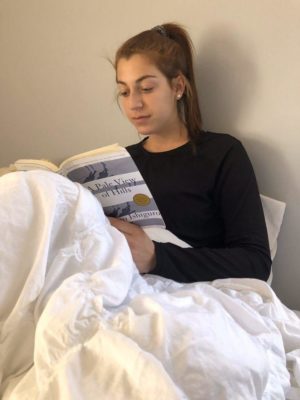 Mishkin '20 Reflects on the Unexpected Circumstances of her Senior Year
Senior Lauren Mishkin '20 is mentioned in this Jewish Light article, posted on Sunday, which talks about how schools are handling their closures across the Greater St. Louis Area. MICDS is mentioned for continuing "much as [we] were by utilizing mandatory video calls with teachers." Lauren said not being with her friends inside or outside of school during what many say is the "best month of high school" is tough, but she's hoping that things clear up quickly.
The article also mentions how MICDS Head of School Jay Rainey "is sending out fun questionnaires to his students to make sure they stay connected, even though they are physically distant." Each day, seniors receive a poll from Mr. Rainey. The polls range from asking about their favorite snacks to learning about their favorite songs while he, in turn, shares his favorite song from his high school prom, "Time of my Life" from Dirty Dancing. In the Jewish Light article, Mishkin spoke about how nice this gesture has been: "He's working super hard to make sure that we still have a lot of good memories. It's really nice to know that he cares so much."
Mishkin, president of the Congregation Shaare Emeth Temple Youth Group (SETYG), shares that it's tough not to have a finish to the school year or the SETYG events asa originally planned, but she is excited for the virtual opportunities that have been made available through school and SETYG.
Bernstein Makes it to Semifinals in USA Biolympiad Open Exam
Jenna Bernstein '21 took the USA Biolympiad (USABO) Open Exam along with several others in the MICDS Biology Olympiad Activity Club. The USABO is a biology-oriented test and is 'the premiere biology competition for high school students in the United States." Many students at MICDS have taken the exam in past years, but this was the first time ever that Upper School Science Teacher Laura Bradford has had a student place in the semifinals!
Jenna had planned to take the semi-final test over spring break, before COVID-19 closed everything down. Although she won't be able to take the next exam, we are very proud of her accomplishment in making it to the semi-finals. Congratulations, Jenna!
7th Grader Engineers a Remote Control Created by LEGOs
Seventh grader Jackson Vetter '25 has been experimenting with LEGOs in quarantine. "I have started to engineer a remote control made entirely out of legos," he shares. He used the Makey Makey to control the movements of his LEGO-made remote control car. The Makey Makey "is an electronic invention tool and toy that allows users to connect everyday objects to computer programs." Watch the video of Jackson's remote control creation below!
7th Grader Sews 66 Sterilizable and Re-usable Hospital Masks
Norah Wright '25 took on and completed a huge community service project! Using medical-grade material received from a friend who is a Certified RN Anesthetist (CRNA) on the front-lines in the operating rooms, Norah dedicated a full day and half to sew 66 sterilizable and re-usable hospital masks which were donated to Missouri Baptist Medical Complex. Her mother helped by cutting and prepping before Norah alone sewed all of the masks. The masks are already in use today and protecting our amazing physicians and health care workers at MOBAP. Way to go, Norah!