A setting designed for learning.
Our 100-acre MICDS campus is designed to help deliver an excellent educational experience for all students in a supportive campus community. Surrounded by nature, the exceptional campus boasts nine well-equipped classrooms, a state-of-the-art STEM (Science, Technology, Engineering, and Mathematics) facility, professional-quality theatres, art studios, and music rooms, outstanding athletic fields and facilities, numerous student-centered common areas, and marvelous green spaces.
Join us for a tour or a visit and experience first-hand how an MICDS education offers students the best environment for becoming their very best selves. Also, if your family would like to come to campus for a stroll or perhaps even a jog, you are welcome here. Our outdoor campus is open to visitors, especially during evenings and weekends. Our facilities are also available for rent. If interested, please complete the Facility Rentals Inquiry Form.
Facilities that breathe inspiration.
Olson Hall
Central to campus, Olson Hall is the setting for Upper School classes as well as our Admission, Development, and Business offices.
McDonnell Hall and Brauer Hall
These halls make up our STEM building where students study Science, Technology, Engineering, and Mathematics. They include an auditorium, hearth room, study commons, labs, a greenhouse, garden, water harvest tanks, classrooms, and more.
Steward Family Aquatic Center and William R. Orthwein Sr. Pool
The 27,505 square-foot aquatic center and 40-meter by 25-yard pool elevate the swimming, diving, and water polo programs as well as the larger community's use and access to aquatics at MICDS.
Ronald S. Beasley Lower School
Our JK through fourth-grade students make leaps and bounds with learning in the Lower School classrooms, library, dining hall, and more.
Freeman Arts Center
This arts center hosts the Freeman Theatre, which Middle and Lower School students enjoy. It includes a studio performance and classroom space that seats up to 135 people and features a computerized light board and sound system.
Danforth Middle School
Home to students in Grades 5-8, the Middle School campus offers a variety of classrooms, a dedicated dining hall, library, and more. There's even a Makerspace to foster collaborative exploration.
Shoenberg Building
​The Shoenberg Building houses some Lower School and Middle School classrooms, including Lower School specialist labs, studios, gym, and library.
Mary Eliot Chapel
Tucked into the Middle School, Mary Eliot Chapel is a full theatre with drama and musical rooms backstage. It hosts many concerts, productions, and awards nights.
May Hall
Upper Schoolers develop new skills and understanding throughout May Hall classrooms, the college counseling offices, support services, and world language classrooms and labs. This is also where Upper School administrative offices and the Upper School Library are found.
Bryant Arts Center
Bryant Arts Center features a state-of-the-art studio for drawing, painting, and sculpting, a ceramics studio, as well as spaces equipped for architecture, digital design, and photography.
Founders Court
The open area of Founders Court offers a communal space for gathering and studying. It also marks the finish line for the Senior Processional.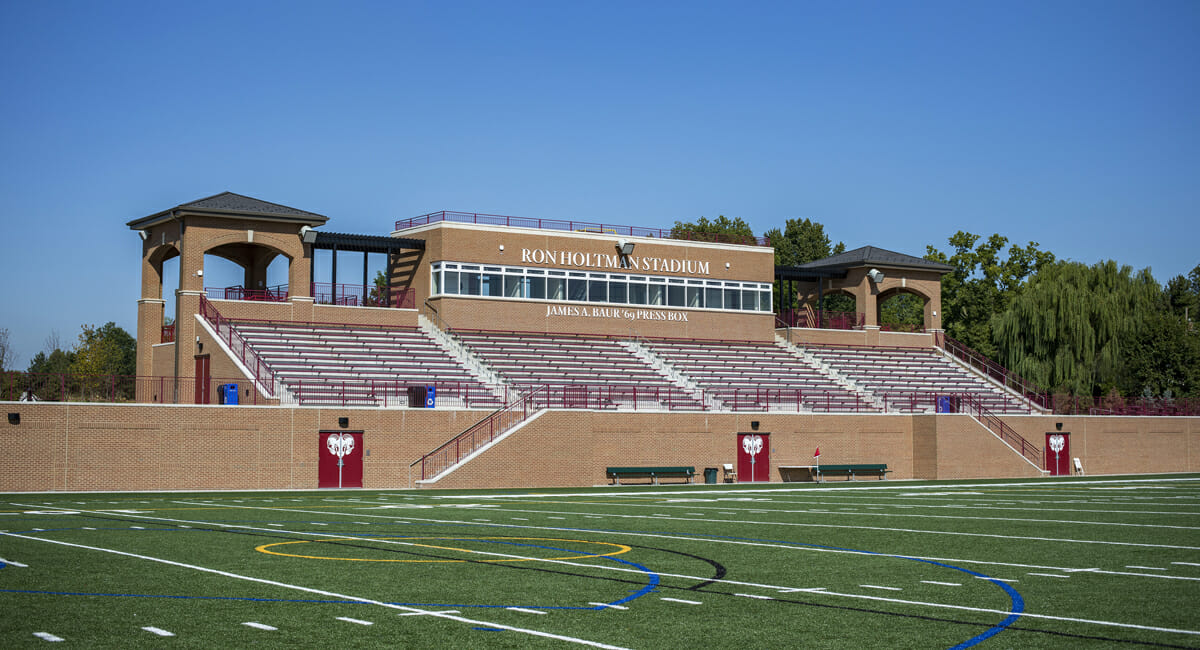 Ron Holtman Stadium and O'Hara Field
The multi-purpose stadium for lacrosse, soccer, and football was dedicated in September 2017, honoring Mr. Holtman's 39-year career as the School's varsity football coach.
McDonnell Athletic Center
This 80,000 square-foot athletic center features a field house and fitness center. Notably, our school-wide lip-dub finished off in the MAC.
McDonnell Gymnasium
McDonnell Gymnasium is the site of MICDS Boys Varsity Basketball, Girls Varsity Basketball, and Volleyball, as well as the All-School Pep Rally at Homecoming.